Good morning! Boy, have I had a time getting today's post to you! I've had some technical difficulties with my camera, and it's taken me a few days to get all of that sorted out and get one borrowed. Turns out that instead of a faulty camera card, I have to send my eight-month old Cannon halfway across the country for warranty work. :-( Family to the rescue, though, as I have one to borrow until my camera makes the trek back home... HOPEFULLY in working order again! I miss it already, and I'm grateful for one to borrow, but I do notice a huge difference in the quality of the photos, but at least it works, right? ;-)
Here's what I came up with to share with you, and I managed to work in quite a variety of dies with this one, and I hope you like it! Head over to
The Scrapping Cottage
and check all of the beautiful CottageCutz dies I've worked with today, plus so many, many more!
It's a little difficult to see, but the flower pot, along with the flowers were shaded using Copic Markers on the colored card stock. I normally use white card stock to cut and color, but I wanted to try different types and textures, and it worked pretty well. You just have to experiment and try them out, and be careful, because the more porous the card stock, the more bleeding of the marker you will notice, but as long as your lightest color marker is VERY close to the card stock color, you can achieve a workable blend.
Here's a list of the CottageCutz dies that I used for this fresh and fun card...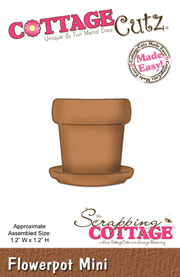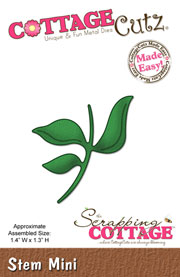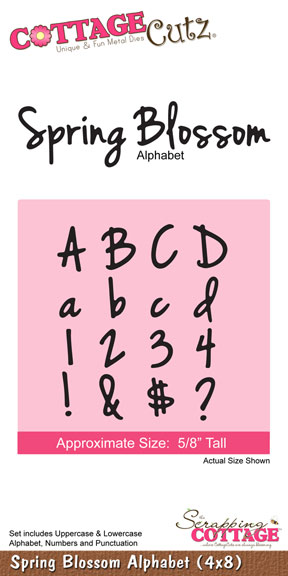 All of the above dies are from the Spring Blossom Release at The Scrapping Cottage. I added the floral panel behind the pot of flowers using the Lace Envelop die from the Tea Time Release.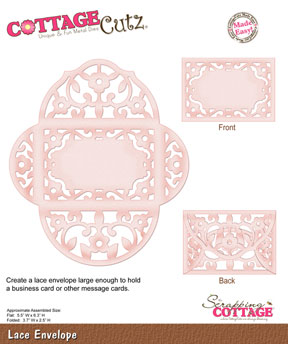 I really love the versatility of this die, because not only can you use it for a gorgeous gift card envelope, but if you cut the pieces apart, you can use it in so many more creative ways. As you can see from the photo, I used the front panel only as the backdrop for my pot of flowers.