Hello and happy Sunday to you! Oh, what a glorious Sunday it is for us, because it's RAINING!! We've seen little more than a drop here and there for almost exactly 4 months! We're DEFINITELY doing the happy dance today!! Another reason for happy dances would certainly be weddings, and I have a card to share with you on this rainy day that was made with dies from the
Wedding Release
at The
Scrapping Cottage
. Here's the card I created with the dies, which I'll list below.
This is the fabulous Cottage Cutz die I used to create this card: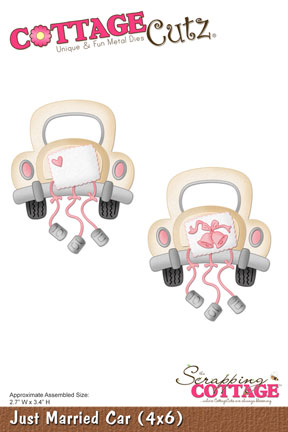 Here's a close-up picture of the car. I thought you'd like to see the gorgeous sparkle that I gave this piece by spritzing it with some Shimmer Mist (Frost). It IS a wedding card after all, and ya just can't have a wedding card without some bling. At least I can't! ;-)
I used a variety of Copic markers shown in the photo below to color the image, which was cut with Express It Blending Card. The VERY best choice for coloring with Copic markers, in my humble opinion. Oops! Looks like I've got BOTH of my N4 markers in there! LOL!!
Here's a closer look at the entire card.
And again, here is the finished card. The sentiment comes from Stampin' Up!, as does that beautiful ribbon. I added a few rhinestones to the cans, for yet a little more bling. Gotta LOVE that bling!!
Thanks so very much for stopping by The ThINKin' Spot today! I hope you have a blessed and beautiful day, and that you're finding reasons to be doing the happy dance, too! Happy stamping!!